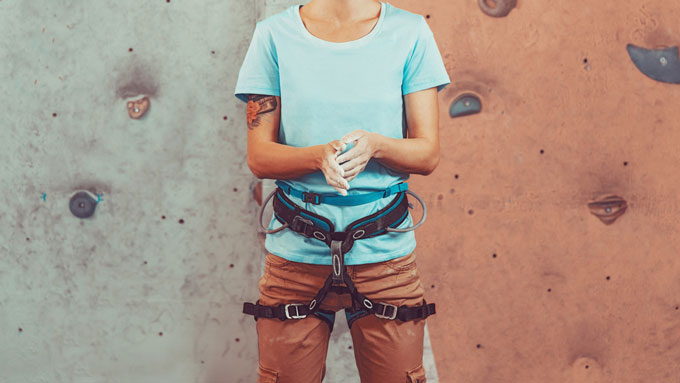 Posted on 10 October 2022 by Sara Prasek
Are you wondering how to keep a new customer in your climbing gym for longer?
Good relationships with customers are key to the success of any business. This also applies to sports facilities, including climbing gyms. To achieve long-term positive results, remember that maximizing the return on a single transaction is not the most important. The key to success is to build the trust and loyalty of the customers towards your club.
Often, new customers come to the climbing gym with curiosity, because they want to try something new and check their climbing skills. Usually one visit in the club is not enough to raise their passion for this wonderful sport. Unfortunatelly, many people visit the climbing center once and then do not visit this place again.
How to encourage customers to visit your climbing gym again?
Remind them of your climbing gym!
Stay active on social media, send SMS and emails. It is a good practice to send a thank you message a couple of days after a customer visit in your club. Ask your customers how they liked the visit, and encourage them to come to your climbing gym again (e.g. by offering a discount code).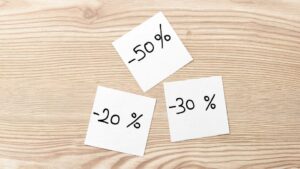 Offer a discount for the first few entrances!
Before your customer becomes a real climbing enthusiast, encourage them to practice with passes discounts. Offer discounts for the first few entrances to your facility. You will see that in this way, you will build a real passion for climbing in many of your customers. This will also make your customers happy with the offer and they will not want to move to another facility. What's more, there's a great chance that these happy customers will recommend your facility to their friends, which will increase your club's recognition.
Make your customers like your facility not only because of the opportunities for sporting development, but also because of events you organize in the facility. Create events during which your customers will enjoy their leisure time with other people with similar interests. It is clear that everything is more fun when there are friends who share your passion. Give your customers the opportunity to meet the people with whom they will be able to practice and have fun in your climbing gym.
Organize professional climbing competitions!
Inspire new customers to reach an advanced climbing level. Give them the chance to get to know the climbing experience from a professional side. Organizing competitions also makes it possible to promote the club more effectively and to be better recognized in the market. Invite famous athletes and build the club's popularity by partnering with local media.
Encourage your customers to tag your climbing gym on social media!
Regularly post different types of content on your facility's profiles in social media. Create special places in your club, attractive for customers to take pictures. Those can be for example mirrors in a locker room with your club logo and a QR code with the link to your social media account. It is also good practice to organize contests in social media for your customers.
Organize classes for the beginners!
Give your customers the possibility to learn proper climbing technique from the very beginning of their climbing adventure. Thanks to such classes your customers will also have the possibility to meet other people with a similar level of advancement in climbing, create friendships and gain training partners.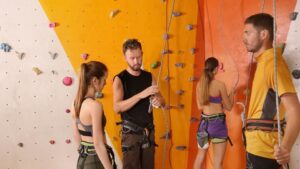 Organize challenges and give souvenirs for new customers!
Motivate your customers to practice more often in your club. Help your clients maintain training progress and keep them engaged in training process. Award new customers who for example visit your club 10 times in one month. Such surprises will certainly increase clients satisfaction. As we all know, a satisfied customer is a loyal customer.
Give your customers the possibility to rate your club. Check if they are satisfied after the visit in your climbing gym. If the satisfaction level is low, take further steps to find out why. Encourage customers to fill in anonymous surveys and let the reception team interview them. It will help you to find useful information about what you should change in the club to improve customer satisfaction.
Have a bookmark 'First visit' on the website and/or a brochure for the beginers, available at the reception desk!
The first visit to a club often involves the customer being a bit confused and not knowing where to start the exercise. Even if every new customer undergoes basic initial training, it is often not enough. If the customer does not want to start with organized classes, give them the opportunity to familiarize themselves with the most important information about climbing training.
Allow renewal/change of contract/pass without activation fee!
Don't let the customer get discouraged from the purchase of another pass/contract because of the necessity of paying an activation fee. By using CLIMBMANAGER functionality, you have the possibilty to decide whether you want to give your customers the option to renew the membership or change its type, without any activation fee.
See the expert's advice, about how to build long-term relationships with climbing-gyms customers:
In my opinion, people – our people, are the most important factors in creating long-term customer relationships. I am thinking of the reception workers, because with them, the customer makes the first contact when visiting the climbing gym. If the receptionist is nice and friendly and, most of all, knows a lot about climbing, there is a greater chance that he will establish contact with the customer. What is the most important, I've noticed that in this situation the customer is more likely to be satisfied with the visit and come to the club again.
Paulina Kruszyńska – BRONX BOULDERING Cracow manager