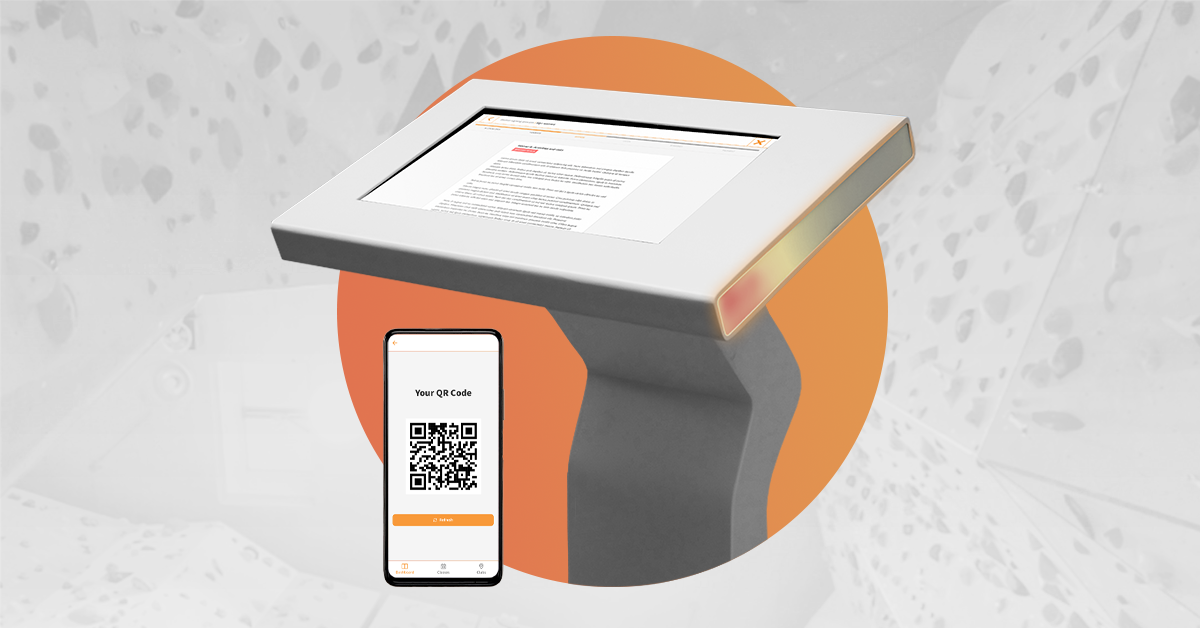 Posted on 16 June 2023 by Sara Prasek
Automation can improve customer service and minimize or even completely exclude employee participation in the passes and contracts purchase process.
In what situations is it worth implementing automation in a climbing gym?
Your club has a problem with reception capacity
Queues at your sports center are not always a good sign.
Have you noticed that there are long queues at your club reception? If so, it can be very frustrating for your club members. People who came to your club for the first time and want to buy a ticket also must wait, and this makes them not want to come to your club again.
This may mean that due to the need to spend a long time waiting for service, your customers will give up the purchase of additional services or products.
To solve this problem, some clubs decide to hire an additional reception employee. However, if the club has problems with reception capacity only at certain hours, it is not profitable. In this situation, a more effective way is to introduce automation and relieve reception staff from monotonous activities such as ticket sales and access control.
Thanks to this solution, your club employees can spend more time on customer service and increase the emphasis on actions aimed at improving the satisfaction of people who visit your facility. As a result, the quality of services provided can be significantly improved.
You want to increase the number of new customers
Another moment when it is worth introducing automation in a climbing gym is the need to increase the number of new customers, especially those acquired through external marketing campaigns. The fact is that various types of modernization attract new customers. Currently, new technologies and automation surround people everywhere, so using them they feel comfortable and safe.
If there are people potentially interested in starting an adventure with climbing or changing a sports facility they attend, your club should meet them. Allowing independent registration in the climbing gym, buying a pass and entering the facility, not only speeds up and facilitates the process of acquiring new club members, but also allows you to increase control over the results of campaigns promoting the club and minimize the costs incurred.
You need to improve control over membership payments and reduce the number of empty reservations
Another situation, when automation technologies support is irreplaceable is the occurrence of a large number of missed class reservations. By automating the booking process, you'll be able to avoid empty reservations. Depending on your preferences and habits of your climbing gym members, the system can automatically send reminders of upcoming classes to their participants.
A common problem faced by climbing gyms is also the lack of regularity in paying membership fees by their customers. The ideal solution is to introduce recurring payments available at CLIMBMANAGER. Thanks to them, customers can attach a card to the system, which will automatically charge their account with a monthly membership fee. This makes it easier to plan your company's revenues and control finances.
You already know how automation can improve club performance and help solve the most common problems. Now is the time to learn about the types of automation currently used in climbing gyms around the world.
What are the main types of automation?
Due to differences in the type of services provided in the sports centers with climbing walls, the presence of additional paid zones or forms of activity performed in the club, various types of automation are used. The most general division allows to distinguish the basic, mixed and full automation model.
Basic automation model
The basic form of automation gives the possibility of integration with access control and online payments. At each stage, it is possible to expand access to other automation components.
Mixed automation model
The mixed automation model is usually used by climbing gyms that want to automate their facility step by step. In the first place in such a club, automatic access control in the form of a reader or reader with a turnstile is most often installed. Then, along with the development of the company, the functionality of the online Customer Panel is added, enabling the purchase of online passes and recurring payments.
Full automation model
Fully automated climbing gyms, to allow their clients 24-hour access to the facility, and the option of buying passes without the participation of reception staff, use a number of integrated solutions.
To enable club members to enter the club themselves outside reception opening hours, QR codes, cards or sometimes biometric readers located outside the building are used. Customers with active passes, after scanning the code or transponder can go through automatic access control and enter the facility. The purchase of passes takes place in the Customer Panel online, so that everyone can be able to buy membership without the help of the climbing gym reception. In addition, integration with recurring payments is often used in such facilities.
To limit the responsibilities of reception staff, fully automated climbing gyms also have self-service kiosks that allow people to register and buy passes on their own.
In more complex facilities that want to control customer entrances to additional paid zones, gates or turnstiles with readers are installed at the entrance to individual zones. Customers must scan the appropriate transponder to enter the additional paid parts of the club. An additional fee is automatically charged to their account, which is required to be paid when leaving the facility.
Each automation implementation is adapted by us to the individual needs of the club and the technical parameters of the building. If you want to get to know the best solution adapted to your climbing gym, write to us at sales@climbmanager.io