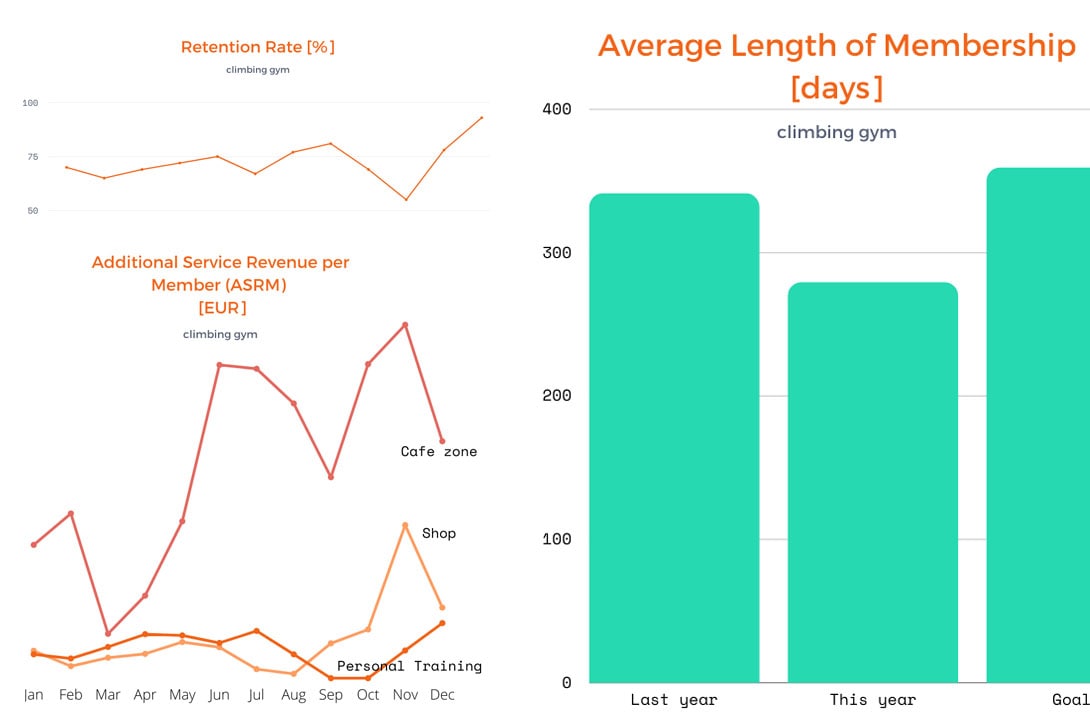 Posted on 23 April 2022 by Magdalena Sala
Read about the most important KPIs of climbing gyms to verify your business strategy. You can also create your own KPIs, consistent with your business model.
KPIs of Climbing Gyms
Revenue per Square Metre or Foot (RPSF)
What does the indicator determine?
RPSF determines how much money is made from the space occupied by your facility.
How can you calculate RPSF?
Divide your annual revenue by the number of square metres of your climbing gym.
What problems can RPSF show?
– poorly planned changing room area – it is too big or too small in relation to the number of customers staying on the premises
– poorly managed space – customers cannot fully use all the zones in your climbing gym. Some zones are very popular but too small to reach their full potential. Other zones are spacious, such as the relaxation area, but do not generate any revenues.
Good advice:
If you are just designing the layout of the zones at your climbing facility, this is the right time to reconsider the usefulness of the design. If a problem has been detected in an already functioning climbing gym, you can repurpose the rooms, move the changing room to another place or put some additional small catering outlets, such as a vending machine with drinks.
Membership Usage (MU)
What does the indicator determine?
Frequency of use of the climbing gym's offer.
How can you calculate MU?
Divide the number of entries to your climbing gym by the total number of days in a given period. If your gym offers also group classes, prepare a separate MU for these customers and a separate one for those who practise only climbing.
What problems can MU show?
– low customer activity – they rarely use the offer. Such customers can cancel their membership at any time since they are not attached to your gym.
– employees fail to motivate customers. Customer service employees do not pay enough attention to new customers.
Good advice:
Create profiles of customers who use a particular offer in your climbing gym. You should also look through customer activity reports on a regular basis. Identify hotspots, e.g. frequent class cancellations, missed classes, or reduced spending in the bistro area. Have a meeting with your team – your staff can spot more problems or obstacles that discourage customers from visiting you facility more often.
Retention Rate (RR)
What does the indicator determine?
This is the number of your active customers, i.e. those with active paid membership.
How can you calculate the CRR?
Formula: ((ME-MN) / MS)) x 100
ME: number of active customers at the end of a given period
MN: number of new customers acquired during a given period
MS: number of customers at the beginning of a given period
Additionally, you can calculate the RR separately for adult customers and children.
The average retention rate in fitness clubs is about 65% per year. How about climbing walls: The Climbing Wall Association reports the average 1-year retention rate at a climbing gym is 39.6%!
Retention issues in the climbing gym industry are a topic for a separate article.
Customer Growth (CG)
What does the indicator determine?
Effectiveness of sales and post-sales activities related to membership renewals.
How can you calculate CG?
Subtract the number of customers who have not renewed their contract or terminated it early from the total number of new customers.
What problems can CG show?
– too many customers do not renew their membership in relation to newly acquired customers. For some reason, customers are not interested in continuing their membership. If such a situation occurred suddenly, you should analyse recent changes in the business model, class offerings, or within the team.
Good advice:
Make sure your team knows how to effectively sell memberships and how to encourage customers to renew their membership for another year. Review your offer – maybe you can add a new membership type that will be a lifeline for your sales team? You should also think why the customer signed their first contract – does the new contract offer similar terms? Another problem may be the fact that your customers are no longer motivated. Your team should do everything in order to maintain the customers' interest in your offer.
Additional Service Revenue per Member (ASRM)
What does the indicator determine?
ASRM determines revenues from additional services beyond membership fees. Additional services can be e.g. personal training sessions, courses for professional climbers, climbing accessories, bistro, or climbing gear rental.
How can you calculate ASRM?
Divide your revenues from additional services by the total number of customers.
What problems can ASRM show?
– low sales profitability of selected products and services – if you launch a course for professional climbers, you need to take into account also the instructor's costs, including the exam cost
– wrong margin – your bistro offers the "today's special" at a too high price. Is it worth keeping it? Or perhaps your employee does not have enough sales skills to encourage customers to take up the offer?
– poorly selected range of additional services – a product or service sometimes does not attract much attention or just requires different marketing strategies. Plan a new product launch – simply displaying a new shoe model on a shelf is not enough.
Good advice:
Selling of additional products and services cannot be accidental. Respect your customers and the atmosphere of the place. An additional range of products complements the image of your gym. It is worth preparing a range of essentials, i.e. products that customers often buy or borrow since they need them during training. Moreover, include an offer of services that generate costs only when the customer expresses their interest, e.g. personal training. You also should not lose sight of the youngest customers – birthday parties, especially catering, are a good source of additional revenues for many sports facilities.
Average Length of Membership (ALM)
What does the indicator determine?
Membership duration.
How can you calculate ALM?
Check the dates when a membership contract was signed and terminated.
What problems can ALM show?
– early termination of a contract – your gym offer does not encourage your customers to use their membership actively. In addition, termination of the contract is quick and there are no additional charges. Thus, customers can easily part with your climbing gym.
Good advice:
A well-drafted contract protects you from a situation when it can be easily broken. Remember to motivate your customers to make regular payments. Special software provides many dedicated options for preparing contracts that:
– reward loyal customers,
– make it difficult to terminate it before its end date,
– impose additional charges for contract termination for reasons attributable to the customer.
Make sure you know the real reason why the customer cancels their membership – perhaps the reason lies with your offer?
Create your own KPIs
If your gym is unusual, typical KPIs are not sufficient. You should analyse your business model. Moreover, pay attention to your offer and the target group of your products and services. In addition, try to look through your budget – maybe you are able to carry out some intensive marketing activities in order to win a lot of leads? It is a good idea to calculate the cost per one lead that your gym wins and to monitor whether your sales team is able to acquire a customer based on the list of leads.
If you offer trial classes for beginner climbers to encourage them to buy a membership – check whether the trainer's attitude and personality have an impact on the number of contracts gained. You may find out that one of the trainers stands out for their sales skills and it is worth organising more trial classes with that particular person. In addition, you should verify the quality of customer service skills of each of your employees, for example by analysing the number of contracts signed by them in a given period.
The KPIs of climbing gyms that use online solutions, e.g. an online membership management module, should include indicators such as:
– online conversion rate – how many users who have created an online account have a gym membership,
– recurring payments – how many users who have bought their membership online use a recurring payment system.
KPIs and IT solutions
Advanced climbing gym management software, as CLIMBMANAGER,  makes the verification of your business performance easier. One of the elements of the Manager Panel is a dashboard that presents the KPIs of your facility. You can choose to view the KPIs on a daily, weekly or quarterly basis or in any timeframe.
Use the reports to find out:
– which products and accessories are most frequently bought,
– how much time customers spend in your gym,
– whose contracts are soon to be terminated,
– which customers have not signed the climbing gym safety declaration.
In order to help our customers – owners of climbing centers, to keep the results of their club under constant control we have introduced a new analysis support.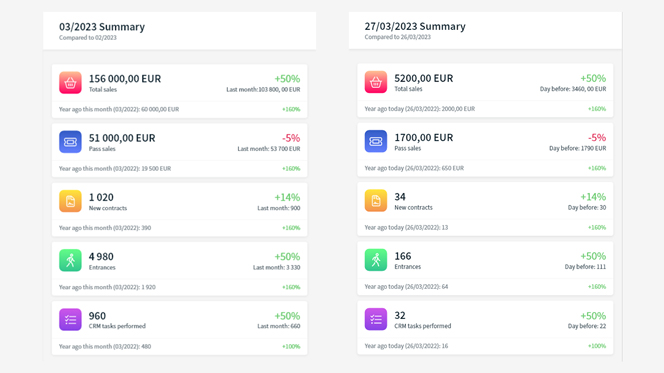 Each owner and manager of a sports facility who uses the CLIMBMANAGER software can now receive daily and monthly summaries of the results achieved by the facility (or by multiple locations in the climbing gym chain).
You should bear in mind that data collection is important. But data analysis and drawing the right conclusions are even more crucial.