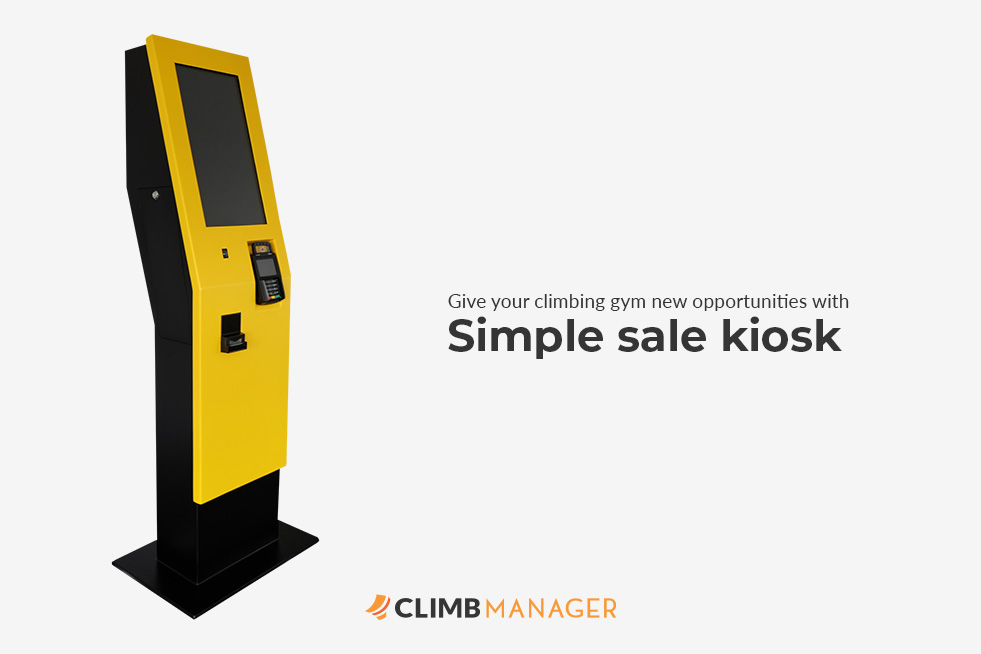 Posted on 24 June 2022 by Sara Prasek
Why are simple sale kiosks valuable for your business?
The success of every business is made by the happiness of its customers. Make your climbing gyms guests happy thanks to the CLIMBMANAGER software with the possibility to use simple sale kiosks.
Our new product 'simple sale kiosk' is a great option for your climbing gym if you want to give your customers the possibility to buy one-time tickets without the necessity to register on the gym website.
Simple sale kiosks are perfect for new customers who want to check if your climbing gym will be a good place for them and check their climbing skills without any limitations.
You should try this kind of software, if you need:
1) 100% Automatization
Simple sale kiosks give you the opportunity to make your reception in the climbing gym completely automated. It diametrically reduces your climbing gym costs. Thanks to simple sale kiosks you don't have to hire a lot of employees to sell tickets. Customers will use the kiosks by themselves.
2) Attract new customer
Many people don't want to register on a website to enter the climbing gym because they are not sure if they will like this activity and don't want to become a member of the climbing gym before they are sure of it. Simple sale kiosks are perfect for them, it allows them to buy one-off tickets without any commitments and don't worry about anything else.
3) Faster purchase
A lot of people nowadays live in a constant haste and they appreciate everything which can make some of their tasks faster. Simple sale kiosks make this possible. The process of purchasing the entry ticket is very easy and helps to avoid unnecessary problems and waste of time.
4) Save memory place
In the traditional process of purchasing the entrance to the climbing gym, people have to create an account which they use to buy memberships. When using simple sale kiosks they don't create any accounts so your business doesn't have to collect inessential data of one-time clients.